Boy, I'm glad the Diaper Hunt is only twice a year! I did order some yummy stuff from
Blue House Soaps
, though. It all looks delicious...and I'm not even a bath & body type girl! If you want to order,
put my name in the comments
as a referral, pleeeeeease!
Caspian is signing "thank you" now whenever I say it to him, so I guess that's a start. Of course, he doesn't quite have the one finger down; it's the same guesture as when he blows kisses (open palm to mouth). I've said "thank you" to him the most, recently, whenever he
doesn't
bite me as he de-latches. Ouch. Praise God, it got through to him that I didn't like it!
On Thanksgiving, Caspian got his first whipped cream "shot" from mommy (and you can really see his little red curly baby 'fro).
Belated Halloween Photos! We dressed him as "Prince Caspian" — aka putting him in a cape and homemade crown (craft foam stapled to a baby beanie, then duct-taped). He actually won second place in the Wilmore costume contest for the hotly-contested 3-and-under age group! Did his winning smile and shameless waving sway the judges? We'll never know. The highlights of his night were the balloon he got from a local political candidate and the glow stick from the Free Methodist youth group, but he also really enjoyed striding around with a cape flowing out behind.
Bonus Photos!
Getting water out of his ear after a bath. Think he's tired?
The day after mommy tried some of her defrizzer on his hair. Flat? Weird! Bring back the curls!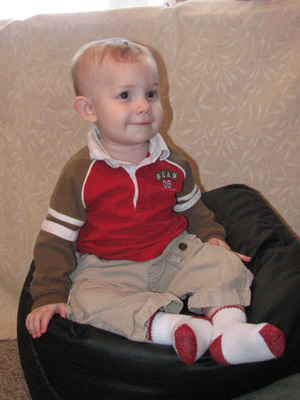 Fun in the park next door!